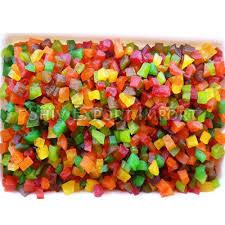 Tutti frutti is nothing but the candied cubes made from fruit or to be more specific, raw papaya. A packet of this candy offers a color blast as normally tutti frutti candy supplier in India provides multiple color combinations in a single pack which makes it more attractive for all age group of consumers. This chewy, colorful and juicy confectionary item has a vast use in making cookies, cakes, ice creams, breads, and different others delicious food items.

Tutti frutti packets include multiple color combinations for these small square shaped tidbits. The most commonly used colours are – red, orange, green, yellow and black. The sweet fruity taste just rocks in preparations or simply when chewed raw.

Preparation:

Usually tutti frutti candies are prepared from raw papaya but in case of urgent requirement, people make these candies from the skin of watermelon too. The process of manufacturing remains the same.

Ingredients –

Raw papaya, vanilla essence, food colours (of choice), sugar (2/3 of papaya)

Method –

1. Before you cut and peel the papaya, you should drain out its milky sap. Put thin incisions on it upside down and in a few time all the sap will be seeped out from the fruit.
2. Now peel it and cut into small sized cubes.
3. Boil a large amount of water in a pot so that all the papaya pieces can be dipped into it. Keep the cubes in boiling water for about 5 minutes and cover the pot with a lid.
4. Drain out the water and separate the cubes.
5. Again boil equal amount of water in a vessel. Add the sugar in it. When all the sugar is dissolved well, add the papaya cubes in it. Boil those in the sugar syrup until those become sweeter and softer.
6. Turn off the flame when you feel those are candied properly. Put a few drops of vanilla essence into the syrup.
7. Take different containers with desired food colours. Pour papaya cubes with sugar syrup in each of them. Stir well with a spoon. Leave them for 12 hours.
8. Strain papaya cubes from each container and spread them separately on a piece of clean cloth. Keep them under a fan for 24 hours to dry up the moisture completely.
9. Tutti frutti candy is ready for use. Store them in a jar and put it inside the refrigerator.
If you find these long method too time taking and laborious, simply buy some from the market at affordable rates.

Multiple uses –

Chefs prefer using tutti frutti candy in different types of culinary –
• Hot fudge sundae
• Tutti frutti loaf
• Sweet bun
• Bakery biscuits
• Different types of cakes such as plum cake, pudding cake, rawa cake, etc.
• Meetha pan
• Pudding
• Bread sandwich

Even tutti frutti candies are awesome choice for toppings on ice-creams and sundaes.

Where to buy?

You must buy your candies from a reputed tutti frutti candy supplier in India as they provide high category tidbits with hygienic and sophisticated packaging. And, don't forget to store your candy packets in the refrigerator once they are cut. It will offer longer shelf life to the candies.