Live A Healthy Life With Heavenly Choco Spread Peanut Butter
Posted by Admin on July, 26, 2021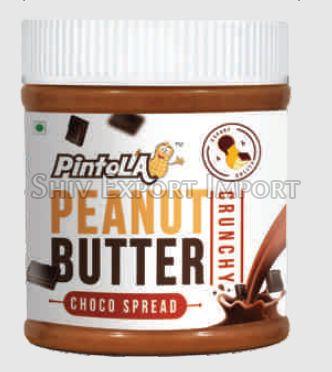 Are you a Chocolate lover but want to switch to a healthy diet in order to remain fit ?

If you think you need to give up on chocolates to keep fit and healthy, then you might be a little bit wrong in this theory. Today, we are blessed to get various food options that will help you add some goodness of chocolate to your diet in the healthiest way possible. One such delectable food item is choco spread peanut butter. As we all know, peanut butter has become a popular food choice among fitness fanatics. Nowadays, gym-goers and those on defined calorie diet plans are often recommended to go for peanut butter as a healthy source of protein and energy. And when this peanut butter comes with chocolate flavour in it, it becomes a healthy pleasure for all the chocolate lovers.

This ultimate creamy and crunchy combination of dark chocolate with dry roasted peanut butter is absolutely a healthy choice to serve as a rich source of energy. This butter is indeed enriched with protein, fibre, good carbs and vitamins making it a healthy option to trust. Also, the crunchiness of peanuts is added to make your meal more delightful and elevate the yummy experience.

It is true that everyone cannot enjoy peanut butter because someone has a peanut allergy but for the rest of them, it is a blessing.

The consumption of choco spread peanut butter is highly beneficial for bodybuilding, managing weight, boosting heart health, promoting strong bones, preventing gallstones and reducing the risk of breast diseases.

Attributes of a high quality choco spread peanut butter:

-Rich in antioxidant
-Low on the glycemic index
-Zero preservatives
-No additives
-No food colours
-Free from trans fat
-Food grade packaging

People can include choco spread peanut butter in their diets easily by:

-Making a classic peanut butter sandwich, using whole fruit and whole-grain bread with the tempting choco spread peanut butter.

-Applying choco spread peanut butter on pancakes and top with banana slices.

-Adding a spoonful of the choco spread peanut butter to your favourite smoothies to make them more filling and yummy.

-Dipping your choice of fruit slices into this peanut butter for an easy snack.

-Stirring choco spread peanut butter into warm oatmeals and yogurts.

-Adding choco spread peanut butter is quite easy to your diet but you have to be mindful of your daily intake as it comes with too many calories. So it is beneficial if consumed in moderation.

-If you are looking forward to buying choco peanut butter, then get in touch with reputed Choco Spread Peanut Butter Suppliers who are known for selling top quality with the goodness of yummy dark chocolate at cost effective prices prevailing in the market.

Therefore, it can be concluded that people should enjoy this delightful Choco spread peanut butter as a part of a healthy balanced diet. With modern changes in eating habits, the demand for this butter is increasing.
This entry was posted on July, 26, 2021 at 15 : 40 pm and is filed under Choco Spread Peanut Butter. You can follow any responses to this entry through the RSS 2.0 feed. You can leave a response from your own site.