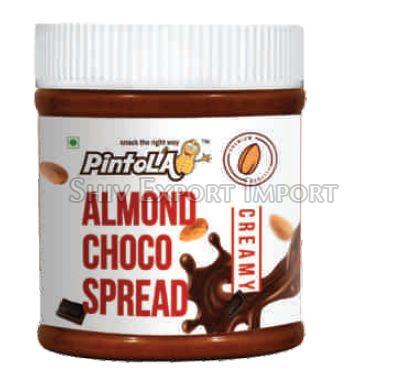 If you hear the voice of your inner child, it possibly demands the presence of almond choco spread on every possible dish you have. The combination of these two ingredients – almond and dark chocolate is just irresistible for the taste buds. It makes a real treat that everyone enjoys.

Goodness of Almonds
Almonds give 35 per cent of daily requisite for vitamin E in one handful of almonds, about 23 nuts. The same quantity of almond delivers
• 75 milligrams of calcium,
• 76 milligrams of magnesium and
• 200 milligrams of potassium.

Nutrition factors of Cacao:
The best brands of almond choco spread items include healthiest dark chocolate i.e. organic cacao, which means it is not ditched. According to the University of Michigan Integrative Medicine Healing Foods Pyramid, cacao makes a balanced plant-based diet.

Let us discuss some of the ways Almond Choco spread can be used to make kids have it anyway.
1. Mini Choco croissant
2. Chocolate- almonds corn
3. Chocolate fudge
4. Molten cakes with spread inside
5. Decadent frozen chocolate custard
6. Chocolate pastries

You can try any of these sweet dishes made with almond Choco spread. The fat and protein content in these category spreads make people more filling so they eat less food overall. Hence, it is a fabulous option not only for kids but for grown-ups as well.

Why eat almond choco spread?

• A good protein source
It is a fairly balanced source of energy which provides all the three macronutrients – carbohydrates, protein, and fat.

• Rich in healthy fats
Almond choco spread is definitely high in its fat quantity. But people, who are on a fat-loss diet, can consume a moderate amount of it every day. Half of the total fat in the spread is of oleic acid which is known to be a monosaturated fat that is healthy.

• Low in carbs
As per the almond choco spread suppliers, the pure form of it contains a minimum amount of carbohydrates which is approximately 20% of the spread. Thus, it is counted among the low-carb diet. Also, it is a good choice for type 2 diabetic patients.

• Enriched with vitamins and minerals
It is super nutritious as the spread contains a bunch of vitamins like E, B3, B6, biotin, and B5, and minerals like folate, magnesium, copper, manganese, selenium, zinc, potassium, and iron.

• Good source of antioxidants
It has plenty of biologically active nutrients. This spread contains several antioxidants like p-coumaric acid, and resveratrol.

Emotional benefits:
In stress, eat dark chocolates, and feel better! Actually, it happens to most of us but very few realize that. Consumption of cacao offers an emotional lift. It contains phenylethylamine, which acts as endorphins in the brain, and thus the feeling of pain slowly reduces and gets filled with the feeling of happiness.

Almond choco spread is a true and effective combination of both almonds and dark chocolate (cacao) which everyone of every age loves to consume on a daily basis. Just remember to limit your consumption.

The almond choco spread wholesalers offer this assortment in different quantity packs to meet the variegated requirements of the market. So, choose as per your cravings.